Carpet Cleaning Brighton MI
Best Carpet Cleaning Near Ann Arbor
Welcome to Minute Dry Carpet Cleaning where thousands of residential and commercial customers rely on us to provide safe and healthy carpet cleaning services in their homes and businesses. Our professional carpet cleaners insures quality and consistent service levels every time.
Green Eco-Friendly Cleaning Products
Low Cost Affordable
Prices
Free Quotes &
Estimates
Fast Service
In My Area
The Best Carpet Cleaning Company
Professional Carpet Cleaners in Brighton
You Won't Believe The Difference!
We are a certified and insured BBB A+ rated company that guarantees all carpet cleaning services performed. We have the staffing to handle any size cleaning job, yet provide the personalized service you can expect from a family owned company.
Our cleaning methods are done in a manner which promotes healthy indoor environments. We utilize organic and green products and processes that reduce water use to leave carpets dry in minutes not days. By controlling the water, we eliminate any chance of mold and mildew growth and wicking of spots and dirt which commonly occur with other cleaning methods. The sanitizing products we offer destroy much of the bacteria and viruses commonly found in carpet and on other surfaces.
Safe and Organic
Our cleaning solutions are safe for babies and pets alike. We clean the most sensitive places such as hospitals, nursing homes, and day care centers. Many of our customers report relief from allergy and asthma attacks.
Safe cleaning products combined with excellent results are the foundation of our success. Experience the difference with Minute Dry!
Trust a Professional Carpet Cleaner From Our Carpet Cleaning Company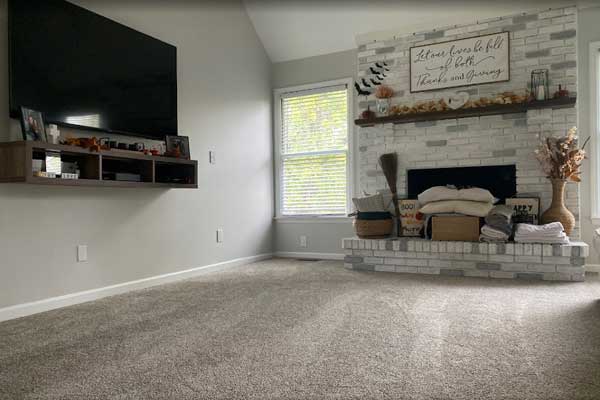 If you want to ensure clean carpets in the Brighton, Michigan area, then you need to trust the team from Minute Dry Carpet and Upholstery Cleaning. It has been our honor to serve the greater Ann Arbor area, and our professional carpet cleaning services are second to none.
We have invested in the latest cleaning solutions and equipment because we always go the extra mile for our clients. Our goal is to stay on top of the latest practices in the industry to make sure we meet or exceed your expectations every time. By investing in continuous education, we ensure that no stain, blemish, or job is too big for us. As a family-owned company, we understand the importance of always putting the needs of our clients first. It would be our honor to do the same for you.
Minute Dry did a GREAT job on our very old all white couch. There were some pretty intense stains on it and they did wonders removing them. It now looks like there is life back into it! Thank you for making my furniture look pretty again!!!!!!
~ Chelsea Butera
Mike was a pleasure to work with! He arrived on time and was friendly and professional. The carpet looks good and smells great. We will definitely use his service again in the future.
~ Barb McConnell
Minute Dry is the only service I will ever is again. It is less messy and the dry time is incredible. The owner is friendly and professional,often with tips to improve carpet life. Would definitely try this service out TODAY.
~ Peg Kwasniewski
Business Owners Trust Our Commercial Carpet Cleaning Service
Small businesses are the backbone of our community, and that is why we provide commercial cleaning services for Brighton business owners. As a family-owned company, we are a small business ourselves, and we always go the extra mile for our local business owners.
In addition to commercial carpet cleaning, we also offer disinfection and sanitization services. If you want to keep your doors open, you need to keep your customers and clients safe. That means minimizing the risk of bacterial and viral transmission in the workplace.
We understand how to remove mold, mildew, dust, debris, and other potential health irritants that might hide in cracks and crevices around your workplace. We will personally come to your place of business and take a look at how we can keep everyone safe.
Furthermore, we always provide free quotes and estimates. If you have questions about how much our services are going to cost, simply reach out to us and ask. Learn more about why so many business owners in the local area have trusted Minute Dry Carpet and Upholstery Cleaning to help them.
Removing Pet Stains and Pet Odors Is a Part of Our Residential Carpet Cleaning Service
Of course, the backbone of what we do involves residential cleaning services. Our professional carpet cleaning company provides numerous services to help you keep your home smelling fresh. A few of our most important services include:
We offer upholstery cleaning and furniture cleaning to protect your valuable pieces of furniture.
We also offer dryer vent cleaning to preserve the life of your dryer and minimize the risk of a fire.
We understand that pets are a member of your family, but you probably don't want pet stains and odors on your carpets. We have the equipment and training necessary to remove pet stains and odors.
We also offer tile and grout cleaning. If you need someone who can help you keep your floors clean, we can clean wood, vinyl, tile, and more.
We even offer mattress sanitizing as a part of our residential cleaning services.
We always use green, organic, and safe cleaning solutions that protect your children, your pets, and your property. Learn more about how we can help you keep your home clean and fresh.